Access to machinery for seed production and seed conditioning has been one of the major challenges seed producers face in Ghana. This challenge has led to the low production of seeds in the country contributing to the huge import of seeds from outside the country.
In 2016, Amos Rutherford Azinu took up the challenge to venture into the production of seeds as his contribution to seed sector development in Ghana through the establishment of his company, Legacy Crop Improvement Centre (LCIC). Creating a special niche for himself in the private sector space, he opted to specialize in Hybrid Maize foundation seed production; a task he has excelled in over the past few years as he has gone to the extent of serving other clients in the West African sub-region with his products.
Realizing his potential to expand his business, Amos moved a step further in 2019 to register a subsidiary company focused on the production of quality certified hybrid seeds; all aimed at developing the seed sector to meet farmers' needs in Ghana and beyond. This is to enhance agricultural productivity to feed the ever-growing global population.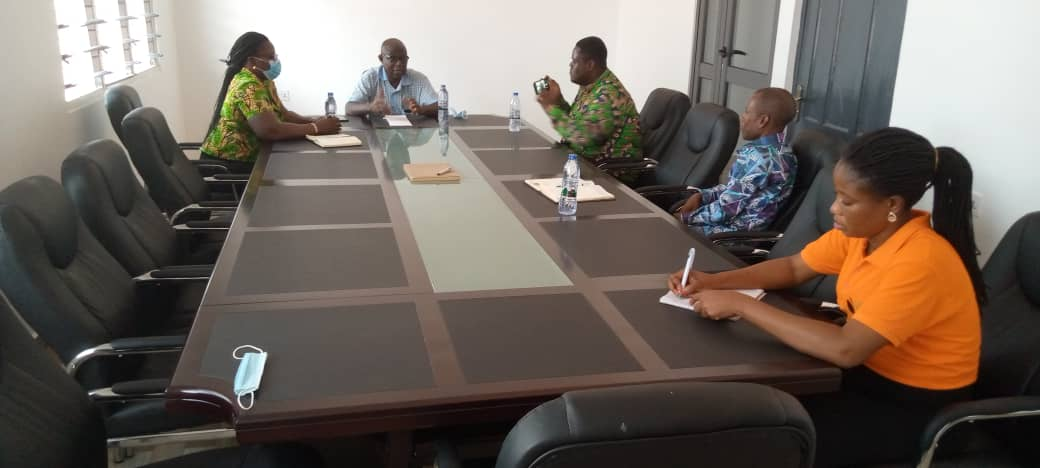 Still striving to enhance the seed value chain to meet pressing needs of the industry, Amos has just established a Smart Seed Business Centre named Legacy Square; located at Otareso in Eastern Region of Ghana. Legacy Square comprises of seed cleaning and sorting shed, seed processing centre with drying facilities and a cold room complete to deliver all in one service to meet farmers expectations. It also has an administration block that houses a well – furnished library and a lecture / boardroom. The ultra-modern cleaning and processing facility installed, churns out 3.5MT of seeds per hour. It is capable of cleaning 150 species of seeds but currently the facility is used for processing of maize, cowpea, rice and soybean seeds and grains.
In response to an invitation by the CEO of LCIC, Amos Rutherford Azinu, the President of the National Seed Trade Association of Ghana (NASTAG), Mr. Kwabena Adu-Gyamfi and some members of the Secretariat paid a visit to the centre to have discussions on future collaborations, and also witness the activities undertaken at the centre. The CEO of LCIC in this meeting suggested that they work closely with NASTAG to help in capacity building of seed industry players and upcoming students in seed business management. He also spoke on the long-term goal for the establishment of the centre; including partnerships with relevant educational institutions like universities and research centres as well as other relevant seed sector stakeholders where programs and courses can be set up to give students and staff the chance to have the practical feel of seed production and seed processing. The meeting ended with the team from NASTAG being given a tour of the facilities.
LCIC has joined the very few private seed sector actors to add to our success as members of NASTAG.
The success stories of our proud members continue unabated. Let us join you tell your story. NASTAG! Seed for Life
Source:
https://www.nastag.org/index.php/who-we-are/nastag-news-announcements-publications/49-success-story-lcic-lighting-the-way-for-seed-processing-in-ghana.html